Justice Rajender Sachar, Minister E. Ahamed and Editor Aziz Burney laud Allama Iqbal's message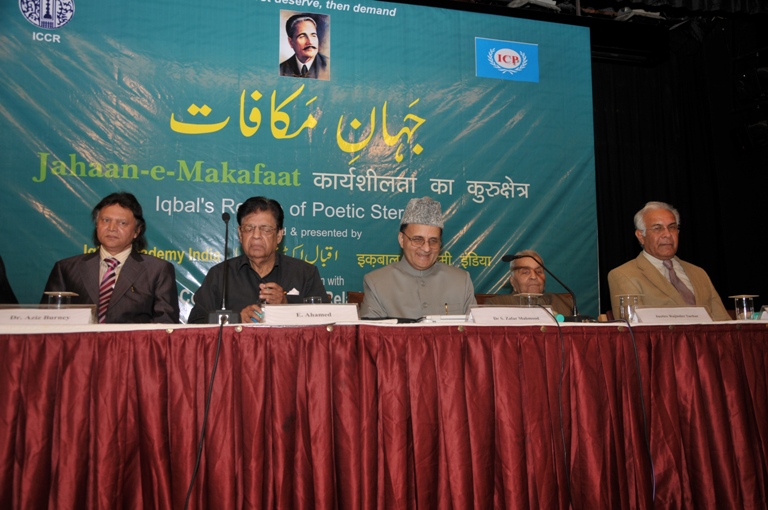 (In the photo - L to R): Dr Aziz Burney, Group Editor, Rashtriya Sahar Newspapers, Mr E. Ahamed, Union Minister of State for External Affairs * HRD, Dr Syed Zafar Mahmood, Chairman, Iqbal Academy India, Justice Rajender Sacha, former Chief Justice and Mr Wajahat Habibullah, Chairman, National Commission for Minorities
Jahaan-e-Makafaat, coffee-table printed album published by Iqbal Academy India (www.iqbalindia.org) was released at an impressive function held on 16 November 2011 in BS Abdur Rahman auditorium of India Islamic Cultural Centre. The event was jointly organized by Iqbal Academy India and Interfaith Coalition for Peace co-sponsored by Indian Council for Cultural Relations, Government of India. The album was released by Mr E. Ahamed, Union Minister of State for External Affairs & HRD. He praised the efforts of the organizers to carry to the masses particularly the youth Allama Iqbal's message of high human moral standards, piety of soul, philanthropy and selflessness activism. Justice Rajender Sachar identified himself with Iqbal's philosophical views regarding high moral conduct and said that the new album should be made available to the students for taking inspiration. The function was also attended by Mr Wajahat Habibullah, Chairman, National Commission for Minorities and Mr Safdar Husan Khan, Chairman, Delhi State Minorities Commission besides a large audience with the auditorium packed to the capacity. Children of God's Grace School and Central School sang Iqbal's poetic supplication Lab pe aati hai dua ban ke tamanna meri and the national song Saare jahaan se achha Hindostaan hamara.

In the same function Dr Aziz Burney, Group Editor, Rashtriya Sahara Newspapers released the collection of selected speeches, writings and project details of Dr Syed Zafar Mahmood titled as Paikaar-e-Zindagi. He is the Chairman of Iqbal Academy India and President of Interfaith Coalition for Peace, New Delhi. Dr Burney said that the people must read this book if they wish to have useful and detailed tips for community uplift of different kinds.

Jahaan-e-Makafaat

Coffee-table printed album published by Iqbal Academy India, New Delhi www.iqbalindia.org
The album consists of eighteen selected couplets of Dr Sir Mohammad Iqbal (1877-1932), Poet Philosopher of India and Composer of the National Song: Saare jahaan se achha Hindostaan hamara.
These couplets are printed in Urdu and also transliterated & translated in Hindi and English. For each couplet two pages, facing each other, have been devoted. In the background, each couplet has been illustrated and depicted with a full page photo with appropriate relevance to the specific theme of the couplet.

All the couplets give the message that a good human being should devote his / her substantial time everyday for working selflesslessly so that the life of others becomes better, more comfortable and pleasing.

The album is an institutionalized effort to uplift the general moral standard of the current and upcoming generations and make the individual more conscious of his / her obligations toward societal amelioration.

Paikaar-e-Zindagi

Paikaar-e-Zindagi is a collection of selected articles and speeches authored and delivered by Dr. Syed Zafar Mahmood on different occasions during the last few years coupled with a description of the projects initiated by him for social uplift. He has had a three-decade long experience of public service and social life as a senior government bureaucrat in different states of India and abroad. He had the pleasure of working in multiple important positions in different departments. This later enabled him to make befitting observations and criticism as evident from this book. Specifically his concern regarding the current pathetic condition of the Muslim community in India, and in the world, incite him to think and find out practical solutions. He presents these to the community and the society with a motivating call for action duly illustrated by how he himself has made several institutional arrangements successfully putting these into practice.

The book has been compartmentalised in four sections. One is "Raftaar-e-Zindagi" – that means the vibrancy and velocity of life; it gives his short biography. The second section documents his selected articles with the generic name of "Afkaar-e-Zindagi" – namely, life's thought process. The third one is a compilation of his speeches titled as "Guftaar-e-Zindagi" – that is, some selected talks delivered by him at various forums. And, the last section gives a glimpse through the projects launched by him labeled as "Ashjaar-e-Zindagi". We can literally translate this as the trees that have been planted.

Thus, Raftaar-e-Zindagi, Afkaar-e-Zindagi, Guftaar-e-Zindagi and Ashjaar-e-Zindagi together make Dr Zafar Mahmood's life, so far, as "Paikaar-e-Zindagi" – It means perseverance launched in life. This title is taken from Allama Iqbal's couplet:

Gharaz hai paikaar-e-zindagi se kamaal paaye hilaal tera
Jahaan ka farz-e-qadeem hai tuu,adaa misaal-e-namaaz ho ja

(Meaning thereby) .....
O human being, through perseverance, you can prove your mettle
You are the ancient obligation of His creation. Offer yourself to the Lord.