News and Events
Upcoming Events:
Recent Events / News / Articles etc:
(1) Iqbal Academy India "Iqbal Day Celebration - 09 Nov 2014"


[Posted on 10 Nov 2014]
(1) Appeasing the Relatives: Article of Faith


[Posted on 15 Oct 2014]
(2) Academy Chairman meets Lt. Governor of Delhi


[Posted on 25 Sep 2014]
(3) Can apply for Projects related to Allama Iqbal


[Posted on 21 Sep 2014]
(4) Iqbal Academy India program at New Horizon School, New Delhi


[Posted on 28 Aug 2014]
(2)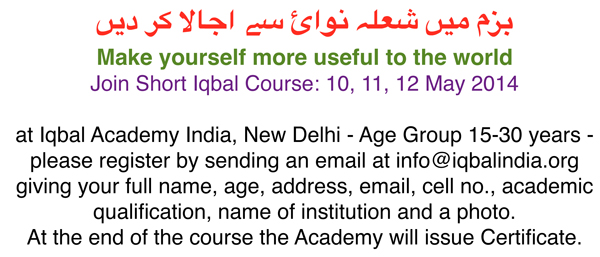 (5) Pune Presentation
(6) Allama Iqbal's concept of Khudi, Mauj and Taqdeer:Radio Ramadan Edinburgh (Scotland) Interview of Dr Syed Zafar Mahmood
(7) Iqbal on Khudi PPT
(8) Mera Payam - Iqbal Academy India's journal to spread Iqbal's message
(9) Mera Payam - Fikr-e-Iqbal Ka Tarjuman (Download Magazine)
(10) Story of Eagle (PPT)-Courtesy: Ms Shakila Rahim of Hyderabad
(11) Jahan-e-Makafat sent to President & Vice President of India
(12) Iqbal Academy India's printed coffee-table album Jahaan-e-Makafaat released
(13) India Think Tank, Boston invites you to: "21st Century Indian Muslim Renaissance" hosted by India Think Tank, Boston.
Sunday, 17 April 2011 at Boston. To view the invitation, copy and paste this link into your browser: http://new.evite.com/services/links/MY5Q3QVJO6

ZFI President's address at India Think Tank, Boston and American Federation of Muslims of Indian Origin (AFMI), Chicago, USA (for looking at an extract of the power point presentation please click here>)
(14) One Day Seminar on: Iqbal ki Tafkeer-e-Deeni
has been postponed. Revised date will be communicated shortly, inshaAllah.

Following are the sub-themes (Unwanaat-e-Zailee):

Tauheed, Awaaz-e-Kun, Lau-e-Mahfooz, Risaalat, Sabaq-e-Me'raaj, Kaaenaat, Anwar-e-Alam, Maqsad-e-Bashariyyat, Pakeezgi-e-Nafs, Aaeen-e-Jawaan Mardaan, Ikhlaaqiyaat, Tasawwur-e-Ishq, Rabt-e-Millat, Wujood-e-Zan, Ham Aahangee, Paimaaish-e-Zamaan-o-Makaan, Koshish-e-Paiham, Ahd-e-Jadeed mein fikr-e-deeni ki ma'nawiyyat.

Invitations have been issued to scholars for writing papers (maqalaas). These are expected to be emailed to us in InPage by 17 April.
Mahana Sheri Nashisht:
6 March 2011 at CISRS House, Mathura Road, New Delhi